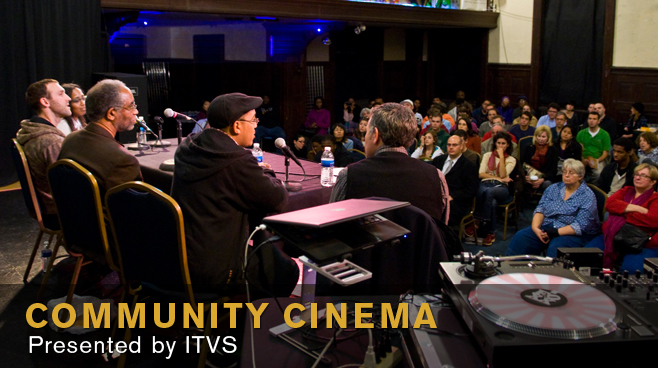 Community Cinema is a groundbreaking public education and civic engagement initiative featuring free monthly screenings of films from the Emmy Award-winning series Independent Lens and other PBS presentations. Community Cinema is on location in more than 95 cities nationally, bringing together leading organizations, community members, and public television stations to learn, discuss, and get involved in key social issues of our time. Download the Community Cinema Program Overview >> (zip, 4.7 MB)
Staff Bios
Duong-Chi Do (Director of Engagement & Education) oversees national engagement and education activities in support of ITVS's award-winning films. Prior to joining ITVS in 2006, Chi spent six years with Asian Pacific Partners for Empowerment and Leadership (APPEAL), where she launched a national youth leadership program that provided mentorship and training to high school students, resulting in more than 50 youth-led health and tobacco control advocacy initiatives across the U.S. and Pacific Islands. Chi began her career working for Asian American Community Services in Columbus, Ohio where her main focus was supporting a community clinic that provided culturally and linguistically appropriate services for immigrants and refugees in central Ohio. Chi has a B.S. in Women's Studies from The Ohio State University. Her favorite aspect of community engagement work at ITVS is witnessing the change that just one film can influence on individuals, groups and entire communities.
Annelise Wunderlich (National Community Engagement and Education Manager) joined ITVS in 2005, and worked for four years as a production manager on domestic and international programs before moving to the Community Engagement team.  Prior to ITVS, Annelise has worked as a videographer and producer in the Bay Area since graduating from UC Berkeley's School of Journalism in 2003.  She was co-producer for Maquilapolis, an ITVS-funded film directed by Vicky Funari and Sergio De La Torre, and assistant editor on P.O.V. programs Thirst and Discovering Dominga. Her own film, Crystal Harvest, won the Golden Gate Award for Best Bay Area Documentary Short at the San Francisco International Film Festival in 2004, and was broadcast on KVIE, KTEH and KQED. She also worked as an immigration paralegal and refugee program coordinator for Amnesty International USA.
Renée Gasch (Engagement and Education Coordinator) joined ITVS in 2012 to support the Women and Girls Lead and Community Classroom programs. Prior to joining ITVS, she was an associate producer and led education and outreach activities for the Miss Representation independent documentary film. She also managed online engagement for the International Museum of Women, an innovative virtual museum, and SERRV International, a fair-trade and development organization. Renee holds an M.A. in Cultural Anthropology from the California Institute of Integral Studies and a B.A. in Journalism from the University of Wisconsin-Madison.
Meredith Anderson-McDonald (Engagement and Education Assistant) is an East Coast native who was inspired to switch coasts after four snowy years spent as an undergraduate at Tufts University in Medford, Massachusetts. Before joining ITVS' Engagement team, Meredith worked with several nonprofits where she worked on community outreach and engagement projects. In 2010, Meredith worked with a small San Francisco Internet startup called Joffer, where she provided editorial support, writing daily blog posts and other editorial copy. Most recently, Meredith worked for an international development NGO in San Francisco called The Asia Foundation where she worked on projects to support economic development in Bangladesh, Thailand, Cambodia, Malaysia, and Indonesia. When she is not at ITVS, Meredith can be found tutoring San Francisco elementary through high school aged students in writing, literacy, and the creative arts as a volunteer with 826 Valencia. Meredith is excited to bring her passions for media, film, and community engagement to the ITVS family.
National Engagement Consultant Bios
Christine Allen Henkel has grown up with Public Television.  She started as an envelope stuffer for her dinner, was a runner in high school, pledge coordinator for a small station in college and started working with ITVS as an assistant to the former regional outreach coordinator.  She has worked in outreach and community education with Americorps NCCC and various mentoring programs for high school and college woman.  Christine works in numerous community groups all in efforts to create a community that talks and cares for each other.  She resides in Star ID.
Patrick Baroch is a graduate of New York University's Tisch School for the Arts. He has worked in film distribution at the classics divisions of Orion Pictures and Sony Pictures publicizing such films as Howards End, Indochine, and Slacker. During his fifteen years in Seattle, Patrick has produced a public access cable show, designed and built furniture, shown his paintings at local galleries and worked in a number of industries as a graphic designer, publicist, and advertising account executive. Patrick is also proud to have been a member of the programming committee for the Seattle Lesbian & Gay Film Festival from 1999 through 2002. In 2205 and 2006 he directed four feature-length multi-camera modern dance performance videos and authored DVDs for each. His short documentary about Seattle's gay bingo, the country's largest, aired on Current TV in 2007 and 2008. Patrick has worked with Community Cinema since 2005.
Michon Boston organizes Community Cinema screenings at Busboys and Poets and the Washington DC Jewish Community Center. She also works with ITVS International to present the Global Perspective Film Series with Meridian International Center. Michon is an events producer and marketer, writer/blogger and video producer. Other projects on Michon's watch include her "Church Ladies Cake Diaries" video project, the Big Read DC (from 2007 – 2010), the "Food and Folklore" series at Eatonville Restaurant, and various PBS outreach initiatives at WHUT Howard University Television. Michon says her favorite thing about Community Cinema is meeting new, exciting people who do great things for and in her hometown city D.C.
Desiree Gutierrez is the founder of the communications consulting firm, MAVEN IMAGE. Her experience includes a hybrid of nonprofit, social action and entertainment campaigns. Prior to creating MAVEN IMAGE, Desiree was a publicist with ITVS and managed the publicity efforts of the Independent Lens series. She also supported five, KCET-PBS productions, including Tavis Smiley and California Connected. Desiree worked extensively with Artists for Amnesty‹the entertainment division of Amnesty International USA‹and her freelance clients have included: TNT and TBS Broadcasting, Antiques Roadshow, American Express, The Craigslist Foundation, The Ginetta Sagan Fund, Outdoor Gear, Oxfam International and The Pasadena Pops Orchestra. Desiree has produced numerous successful events including Oscar parties, television launch parties, film screenings and heritage events.
Allison Inman is a freelance copywriter and communication consultant based in Nashville. After a dozen years of corporate work, she shifted to public media, leading communication efforts at Colorado's statewide public television network, Rocky Mountain PBS in Denver. There she worked on a dynamic communication/marketing team that helped set a new standard for community engagement in public television. In Denver she coordinated a Community Cinema program that now includes seven Colorado cities. When she moved back to the South in 2008, she brought Community Cinema to Nashville with partners Nashville Public Television, Nashville Public Library, Nashville Film Festival and Hands On Nashville. She is currently producing her first film, a documentary about civil rights activist Hector Black, and volunteering with Galaxy Star Peacemakers, a gang outreach organization she worked with when screening "Crips and Bloods: Made in America" in Nashville.
Jonathan Remple joined ITVS in 2012 first as the social media lead for The Waiting Room documentary and then to spearhead Community Cinema programming in the Bay Area. After studying abroad in Niger during university he founded Niger Food Relief and the Boston University Niger Alumni Network, organizations which united a 20-year program to unite in the face of the 2010 West African famine. He lived and worked in Rwanda for a year as a Fulbright Fellow where he taught university courses, studied traditional Kinyrawnda poetry and oral history, and volunteered with local social justice groups. After circumnavigating the globe, he returned to the Bay Area. Besides his work at ITVS Jonathan travels to local schools as a Poet Mentor with Youth Speaks and performs in venues around the Bay. He currently resides in San Francisco.
Naomi Walker has been with ITVS since 2006 as coordinator of the Community Cinema program in Chicago. She formerly served as outreach director for Cinema/Chicago for several years, expanding their education program to include a monthly film screening series for Chicago public high schools. In her capacity as outreach director, Naomi also organized the Teachers Institute for Media Studies, a series of workshops exploring ways for educators to use multimedia in the classroom, and served as director of the Future Filmmakers Festival, which showcased the work of filmmakers under 20. Naomi works out of The Michael Rabiger Center for Documentary at Columbia College, where she teaches Outreach and Engagement Strategies for the Documentary and mentors young documentary filmmakers. Naomi spins records at benefits for local grassroots nonprofit organizations and is a regular DJ for the monthly Peace Party.
Sara Zia Ebrahimi learned to talk in Iran and to press the record button in the U.S. She's been attempting to convince people to listen to her stories from the perspective of a child of immigrant hippies ever since. Her adventures in media production have ranged from DJing a radio show on a low-power FM radio station she co-founded to working as the director of development and communications at Bread & Roses Community Fund, a community foundation dedicated to supporting grassroots social change initiatives in the Philadelphia region. She's been working for over 10 years on trying to break the record for the most different ways to be affiliated with Temple University, first as an undergraduate student, then completing her MFA in Film and Media Arts and now as an adjunct instructor. She also works as a freelance consultant doing events and community outreach for organizations such as  Independent Television Service's (ITVS) Community Cinema program and the Leeway Foundation's Art & Change outreach efforts. Ebrahimi has served as a juror for the Philadelphia Cultural Fund, the Next Frame Film Festival, the Dereck Freeze Screenwriting Competition, and the University Film and Video Association's Carole Fielding Student Award, also as a board member of the Philadelphia Independent Film and Video Association and the Black Lily Women's Film and Video Festival. Her short films — primarily personal documentaries exploring some element of the immigrant experience — have screened internationally and been awarded grants from Chicken & Egg Pictures, Rooftop Films. and the Leeway Foundation. She resides in Philadelphia, PA.